Identifying Key Factors Affecting Customer's Decision-Making of Internet Service Providers in Albania
Abstract
The internet market in Albania is expanding and new Internet service providers have grown significantly. Improving competition in this market relies on understanding why customers choose a particular service provider. This research paper aims to investigate and understand how a range of factors impact the customers' perceptions to choose their internet service provider. It explores the factors affecting customer's decision by using a quantitative method via a questionnaire survey. For identifying behavioral factors, a survey was conducted face to face. The structured questionnaire assessed the users' perceptions and opinions in choosing an internet provider. The target population consisted of individual internet users at the household level who have fixed internet access at home. This paper presents the variables that influence consumers purchase decision by reviewing key factors in the sector and identifies consumer patterns in purchasing Internet Service Provider (ISPs). The findings of the research showed that brand image is the most influential factor in the selection of ISPs. In order to gain new customers, internet providers have to take into consideration the company's image as a critical factor to the consumer decision-making, followed by the information disposed to customers and the risk associated to the service provider. The research provided high-speed internet providers in Albania insights on how to gain new customers and enhance competitiveness
References
AKEP (2016). Statistical Report 2016. Retrieved from http://akep.al/.
Athanassopoulos, A.D., & Iliakopoulos, A. (2003). Modeling Customer Satisfaction in Telecommunications: Assessing the Effects of Multiple Transaction Points on the Perceived Overall Performance of the Provider. Production and Operations Management, 12(2), 224-245. doi: 10.1111/j.1937-5956.2003.tb00502.x.
Blackwell, R.D., Miniard, P.W., & Engel, J.F. (2001). Consumer Behavior. Worth, Texas: Dryden Press.
Chun, R. (2005). Corporate Reputation: Meaning and Measurement. International Journal of Management Reviews, 7(2), 91-109. doi: 10.1111/j.1468-2370.2005.00109.x.
Darley, W.K., Blankson, C., & Luethge, D.J. (2010). Toward an Integrated Framework for Online Consumer Behavior and Decision Making Process: A Review. Psychology & Marketing, 27(2), 94-116. doi: 10.1002/mar.20322.
Forsythe, S., & Shi, B. (2003). Consumer Patronage and Risk Perceptions in Internet Shopping. Journal of Business Research, 56(11), 867-875. doi: 10.1016/S0148-2963(01)00273-9.
Forsythe, S., Liu, C., Shannon, D., & Gardner, LC. (2006). Development of a Scale to Measure the Perceived Benefits and Risks of Online Shopping. Journal of Interactive Marketing, 20(2), 55-75. doi: 10.1002/dir.20061.
Gerpott, T.J. (2018). Relative fixed Internet connection speed experiences as antecedents of customer satisfaction and loyalty: An empirical analysis of consumers in Germany. Management & Marketing. Challenges for the Knowledge Society, 13(4), 1150-1173. doi: 10.2478/mmcks-2018-0029.
Giovanis, A.N., Zondiros, D., & Tomaras, P. (2014). The antecedents of customer loyalty for broadband services: The role of service quality, emotional satisfaction and corporate image. Procedia-Social and Behavioral Sciences, 148, 236-244. doi: 10.1016/j.sbspro.2014.07.039.
Gotsi, M., & Wilson, A. (2001). Corporate Reputation Management: Living the Brand. Management Decision, 39(2), 99-104. doi: 10.1108/EUM0000000005415.
Grardberg, N.A., & Fombrun, C.J. (2002). The Global Reputation Quotient Project: First Steps Towards a Cross-Nationally Valid Measure of Corporate Reputation. Corporate Reputation Review, 4(4), 303-307.
Grzybowski, L., Hasbi, M., & Liang, J. (2018). Transition from copper to fiber broadband: The role of connection speed and switching costs. Information Economics and Policy, 42(1), 1-10. doi: 10.1016/j.infoecopol.2017.07.001.
Hu, A.W., & Hwang, I. (2006). Measuring the Effects of Consumer Switching Costs on Switching Intention in Taiwan Mobile Telecommunication Services. Journal of American Academy of Business, 9(1), 75-85.
Kardes, F.R., Cronley, M.L., & Cline, T.W. (2011). Consumer behavior: Science and practice. Cincinnati, OH: South-Western, Cengage Learning.
McColl-Kennedy, J.R., & Fetter, J.R.E. (2001). Dimensions of Consumer Search Behavior in Services. Journal of Services Marketing, 13(3), 242-265. doi: 10.1108/08876049910273871.
Mitra, K., Reiss, M.C., & Capella, L.M. (1999). An Examination of Perceived Risk, Information Search and Behavioral Intentions in Search, Experience and Credence Services. Journal of Services Marketing, 13(3), 208-228. doi: 10.1108/08876049910273763.
Nguyen, N., & Leblanc, G. (2001). Corporate Image and Corporate Reputation in Customers' Retention Decisions in Services. Journal of Retailing and Consumer Services, 8, 227-236. doi: 10.1016/S0969-6989(00)00029-1.
Parasuraman, A., Zeithaml, V.A., & Berry, L.L. (1985). A Conceptual Model of Service Quality and Its Implications for Future Research. Journal of Marketing, 49(4), 41-50. doi: 10.2307/1251430.
Schiffman, L.G., & Kanuk, L. (2007). Consumer Behaviour. Upper Saddle River, NJ: Prentice Hall
Sekaran, U. (2003). Research Method for Business: A Skill Building Approach. New York, NY: John Wiley & Sons.
Senecal, S., Kalczynski, P.J., & Nantel, J. (2005). Consumer's decision-making process and their shopping behavior: a clickstream analysis. Journal of Business Research, 58, 1599-1608. doi: 10.1016/j.jbusres.2004.06.003.
Solomon, M., Bamossy, G., Askegaard, S., & Hogg, M. (2013). Consumer Behaviour: A European Perspective. London: Prentice Hall.
Srinivasan, N., & Ratchford, B.T. (1991). An empirical test of a model of external search for automobiles. Journal of Consumer Research, 18, 233–242.
Tabachnick, B.G., & Fidell, L.S. (2007). Using multivariate statistics. Boston, MA: Allyn & Bacon/Pearson Education.
Wang, Y., Lo, H., & Yang, Y. (2004). An Integrated Framework for Service Quality, Customer Value, Satisfaction: Evidence from China's Telecommunication Industry. Information Systems Frontiers, 6(4), 325-340. doi: 10.1023/B:ISFI.0000046375.72726.67.
Refbacks
There are currently no refbacks.
Copyright (c) 2019 Management Dynamics in the Knowledge Economy

This work is licensed under a
Creative Commons Attribution-NonCommercial 4.0 International License
.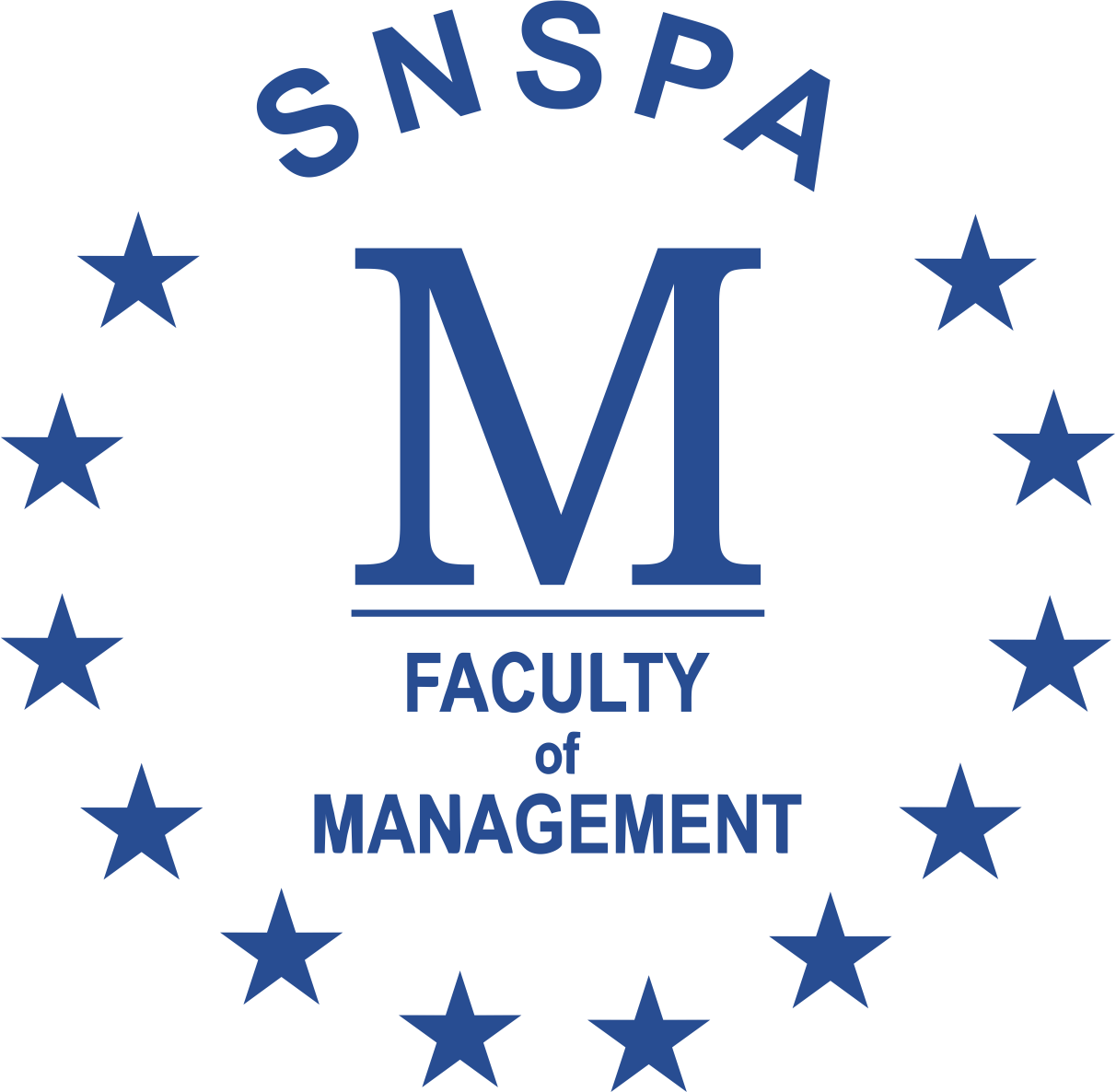 © Faculty of Management (SNSPA)
This work is licensed under CC BY-NC
The opinions expressed in the papers published are the authors' own and do not necessarily express the views of the editors of this journal. The authors assume all responsibility for the ideas expressed in the materials published.
ISSN 2392-8042 (online)