Actors in the Knowledge Economy: A Typology
Abstract
The purpose of this paper is to construct a typology of actors in the knowledge economy, based on the specificity of their activities. So far, almost all the researchers focused their interests on organizations and their management in the knowledge economy ignoring the actors who perform and make the progress of the new economy based primarily on intangible resources. The main criterion for this typology is the positioning of these actors with respect to knowledge, as an intangible resource of any economic activity. The whole spectrum of this typology is defined by the end actors who are the composers and the consumers. The composers create knowledge and transform personal knowledge into organizational knowledge, while the consumers are those who use it. In between, there are owners, administrators, and performers. As an extension, we may include in this typology the citizens as end possible knowledge users. Also, we perform an analysis of the characteristics of all these actors with respect to values, objectives, methods, and results. The contribution of the present paper results from the new perspective we offer in understanding the mechanisms and the dynamics of the knowledge economy.
References
Bratianu, C., & Bejinaru, R. (2020). Knowledge dynamics: a thermodynamic approach. Kybernetes, 49(1), 6-12. https://doi.org/10.1108/K-02-2019-0122
Bratianu, C., & Vatamanescu, E.M. (2017). Students' perception in developing generic skills for business: a knowledge approach. VINE Journal of Information and Knowledge Management Systems, 47(4), 490-505. https://doi.org/10.1108/VJKMS-11-2016-0065
Chomsky, N. (2016). Who rules the world? New York, NY: Metropolitan Books.
Edwards, J. (2011). A process view of knowledge management: it ain't what you do, it's the way that you do it. Electronic Journal of Knowledge Management, 9(4), 297-306.
Edvinsson L., & Malone, M. (1997). Intellectual capital: realizing your company's true value by finding its hidden roots. New York, NY: Harper Business.
Forbes (2016). Rich list, 2016. Retrieved from www.forbes.com/sites/chasewithorn/2016/03/01/the-full-list-of-every-american-billionaire-2016/.
Frank R. (2015). Microeconomics and behavior. New York, NY: Mc Graw Hill.
Ingham E. (2014). We're all marketers now: the growing power of social media and search marketing. Forbes Magazine. August 20, 2014.
Le Grand, M. (2008). The economics of social problems. London, UK: Palgrave Macmillan.
Linderman, K. (2003). Six Sigma: a goal-theoretic perspective. Journal of Operations Management, 3(21), 193-203.
Maslow, A.H. (1943). A theory of human motivation. Psychological Review, 50(4), 370–396.
McGuire, D. (2015) Handbook of human resource development. 2nd Edition. San Francisco, CA: Sage Publishing.
Nonaka, I., &Takeuchi, H. (1995). The knowledge-creating company. Oxford, UK: Oxford University Press.
North, K., & Kumta, G. (2018). Knowledge management. Value creation through organizational learning. 2nd Edition. Cham, UK: Springer International Publishing.
Polanyi, M. (1966). The tacit dimension. First published Doubleday & Co, 1966. Reprinted Peter Smith, Gloucester, Mass, 1983.
Sunday Times (2016) Rich List, 2016. Retrieved from www.businessinsider.com/Sunday-times-rich-list- richest-people-uk-2016-12.
Surico, P. & Galeatti, A. (2020). The economics of a pandemic: the case of COVID-19. London, UK: London Business School.
Tomé, E. (2011). HRD in the 21st-century knowledge-based and services driven economy: an introduction. Journal of European Industrial Training, 35(6), 524-539.
Tomé, E. (2016). The role of intangible capital in economic growth: organizational, regional, and personal dimensions. MENA AHRD Conference, Morroco, 2016.
Tomé, E. (2018). Critical knowledge management – A state of the art analysis. In The Proceedings of the European Conference on Knowledge Management (ECKM), University of Padua.
Tomé, E., Gromova, E., & Hatch, A. (2020). Did the bubble burst? The Portuguese economy during COVID-19. Management & Marketing. Challenges for the Knowledge Society, 15, Special Issue, 477-495. https://doi.org/10.2478/mmcks-2020-0028
Tomé E., & Gonzalez, L. (2014). The intangible cube: a co-word analysis for mapping the faces. Electronic Journal of Knowledge Management, 12(4), 249-58.
Zhou, W. (2020). The coronavirus prevention handbook: 101 science-based tips that could save your life. New York, NY: Skyhorse Publishing.
Refbacks
There are currently no refbacks.
Copyright (c) 2020 Management Dynamics in the Knowledge Economy

This work is licensed under a
Creative Commons Attribution-NonCommercial 4.0 International License
.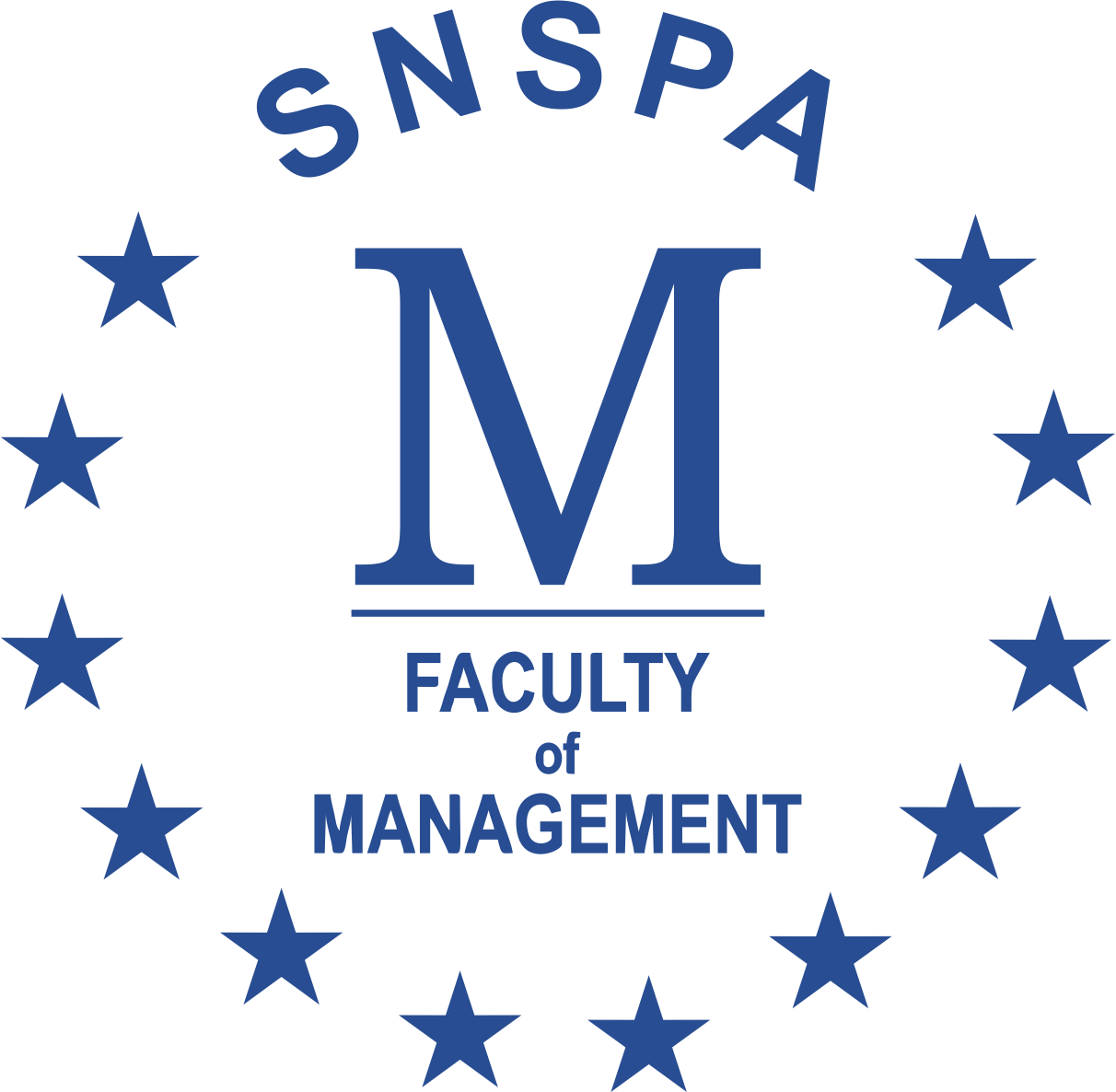 © Faculty of Management (SNSPA)
This work is licensed under CC BY-NC
The opinions expressed in the papers published are the authors' own and do not necessarily express the views of the editors of this journal. The authors assume all responsibility for the ideas expressed in the materials published.
ISSN 2392-8042 (online)