Active Ageing and Shadow Economy in Romania. An Empirical Causality Analysis
Abstract
The paper aims to analyze the unidirectional relationship from active ageing phenomena to the size of the Romanian shadow economy in order to see if the unofficial sector represents a social buffer for older workers who have lower labor market opportunities. In order to do that, we applied two important causality analyses, Granger and Toda-Yamamoto, based on quarterly data over the period 2000-2010. The size of the Romanian shadow economy was previously estimated using a revised version of the currency demand approach based on autoregressive distributed lag (ARDL) approach. For active ageing, the employment rate for older workers was used as proxy. The cointegration empirical results highlight the existence of a positive long-run relationship between employment rate of elderly and unofficial sector. The empirical causality results conclude that there is a unidirectional Granger causality that runs from employment rate of older workers to shadow economy both on long-run and short-run. The empirical results of Toda-Yamamoto revealed the absence of a short-run causal relationship from employment rate for older workers to the size of shadow economy. One possible explanation for the existence of a positive relationship that runs from employment rate of elderly to unofficial sector can be the low capacity of the economy to generate proper jobs, so this age group of older workers does not have qualifications that meet the needs of formal economy, and therefore shadow economy becomes an alternative to formal work and it may provide a buffer for some workers who have few alternative labor market opportunities. Another alternative could be the fact that this age group of elderly remains occupied in the formal lab our market, but with low earnings and they work in informal activities in order to supplement their income.
References
Alexandru (Davidescu) A.A., and Dobre, I. (2013). The impact of unemployment rate on the size of Romanian Shadow Economy, Public Finance Review, Special Issue: The Shadow Economy, Tax Evasion, and Money Laundering, 41(5), 608-632.
Alexandru A.A., and Dobre, I. (2011). The impact of unemployment rate on Romanian shadow economy: An empirical investigation using Granger causality analysis, Economic Computation and Economic Cybernetics Studies and Research, 45(1), 55-76.
Boitan, I. (2015). Determinants of sustainable banks' profitability. Evidence from EU countries, Financial Studies, 19(1), 21-39.
Barbu T., Obreja C., and Boitan I. (2015). Shadow banking – considerations on ethical issues, scope and regulatory prospects. In Boitan I., and Barbu T. (Eds.). Financial industry at the crossroads between current practices and ethical virtues (pp. 54-69). Ukraine: Taadler Publishing House.
Busu, C. (2014). Competition policy in the European context: evolutions and perspectives. Proceedings of the 8th International Management Conference Management Challenges for Sustainable Development. November 6th-7th, Bucharest, Romania.
Danciu, A.R., and Strat, V.A. (2015). Labor Force – Main Determinant of the Foreign Direct Investments Located in Romania, Romanian Statistical Review, 63(1), 3-21.
Dobre, I., and Davidescu, A. (2013). Long-run demand for money and the size of shadow economy in Romania: An application of ARDL model, Economic Computation and Economic Cybernetics Studies and Research, 47(3), 91-110.
Davidescu, A.A. (2014). Revisiting the Relationship between Unemployment Rates and Shadow Economy. A Toda-Yamamoto Approach for the Case of Romania, Procedia Economics and Finance, 10 (2014), 227-236.
Duasa, J. (2007). Malayasian foreign direct investment and growth: does stability matter?, Journal of Economic Cooperation, 28(2), 83-98.
Esso, J.L. (2010). Long-Run Relationship and Causality between Foreign Direct Investment and Growth: Evidence from Ten African Countries, International Journal of Economics and Finance, 2(2), 168-177.
European Commission (2012). Employment Policies to Promote Active Ageing, European Employment Observatory Review. Retrieved from ec.europa.eu/social/BlobServlet?docId=7801&langId=en.
Labour Force Survey database of Eurostat (2014). Retrieved from http://ec.europa.eu/eurostat/web/microdata/european-union-labour-force-survey.
Lehmann, H., and Pignatti, N. (2008). Informal employment relationships and labor market segmentation in transition economies: evidence from Ukraine. Retrieved from https://ideas.repec.org/p/iza/izadps/dp3269.html.
Maloney, W.F. (1999). Does informality imply segmentation in urban labor markets? Evidence from sectorial transitions in Mexico. The World Bank Economic Review, 13(2), 275-302.
Moldovan (Gavril), I.A. (2015a). Incentives for financing sustainable development, Annals of the "Constantin Brâncuşi" University of Târgu Jiu, Economy Series, 2(I), 312-317.
Moldovan (Gavril), I.A. (2015b). Sustainable development and CSR in the financial sector. Annals of the "Constantin Brâncuşi" University of Târgu Jiu, Economy Series, 1(I), 217-221.
OECD (2008). Employment Outlook, 2008. Retrieved from http://www.keepeek.com/Digital-Asset-Management/oecd/employment/oecd-employment-outlook-2008_empl_outlook-2008-en#page1.
Perugini, C., and Signorelli, M. (2004). Employment performance and convergence in the European countries and regions. The European Journal of Comparative Economics, 1(2), 243-278.
Rambaldi, A., and Doran, H. (1996). Testing for Granger Non-Causality in Cointegrated Systems Made Easy, Working Papers in Econometrics and Applied Statistics, The Department of Econometrics, University of New England, 88.
Saafi, S., Farhat, A., Mohamed, H., and Bel, M. (2015a). Testing the relationships between shadow economy and unemployment: empirical evidence from linear and nonlinear tests. Studies in Nonlinear Dynamics & Econometrics, 2(4).
Saafi, S., Mohamed, M. H., and Farhat, A. (2015b). Is there a causal relationship between unemployment and informal economy in Tunisia: evidence from linear and non-linear Granger causality. Economics Bulletin, 35(2), 1191-1204.
Schneider, F., and Buehn, A. (2007). Shadow economies and corruption all over the world: revised estimates for 120 countries, Economics - The Open-Access, Open-Assessment E-Journal, Kiel Institute for the World Economy, 1(9), 1-53.
Schneider, F., Buehn, A., and Montenegro, C. (2010), Shadow Economies All over the World: New Estimates for 162 Countries from 1999 to 2007, Working Papers wp322, University of Chile, Department of Economics.
Tempo database, National Institute of Statistics. Retrieved from www.insse.ro.
Monthly Bulletins of National Bank of Romania, 2000-2010. Retrieved from www.bnr.ro.
UNECE (2002). Regional Implementation Strategy for the Madrid International Plan of Action on Ageing. Retrieved from http://www.unece.org/fi leadmin/DAM/pau/_docs/ece/2002/ECE_AC23_2002_2_Rev6_e.pdf.
UNECE (2012). Active Ageing and Quality of Life in Old Age. ECE/WG.1/16, Geneva 2012.
UNECE (2013). Active Ageing Index 2012 Concept, Methodology and Final Results, Project: 'Active Ageing Index (AAI)' UNECE Grant No: ECE/GC/2012/003.
World Bank (2014). Living Long, Staying Active and Strong: Promotion of Active Ageing in Romania, Europe and Central Asia Region.
WHO (2002). Active Ageing. A policy frame work. Geneva, Switzerland: World Health Organization (WHO).
Refbacks
There are currently no refbacks.
Copyright (c) 2015 Management Dynamics in the Knowledge Economy

This work is licensed under a
Creative Commons Attribution-NonCommercial 4.0 International License
.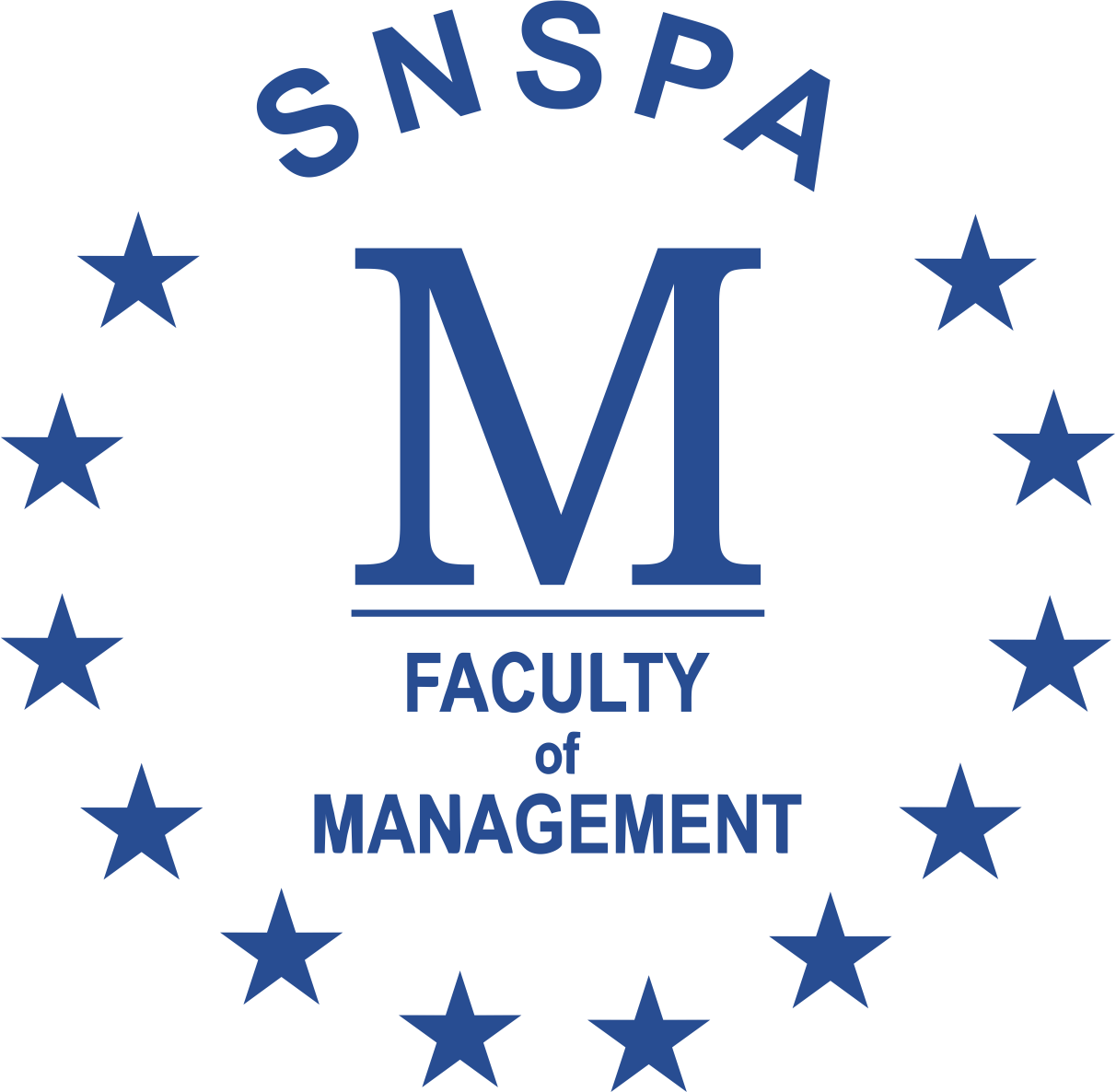 © Faculty of Management (SNSPA)
This work is licensed under CC BY-NC
The opinions expressed in the papers published are the authors' own and do not necessarily express the views of the editors of this journal. The authors assume all responsibility for the ideas expressed in the materials published.
ISSN 2392-8042 (online)